The following information is about the MIMAKI Roll Unit.
Option part name:RU-160 Roll Unit (P/N:OPT-J0266)
Detail:
① You can set roll media and print on it with this unit.
② This unit is mounted on the front and back side of printer.
The machine size will be longer than the original printer size once the unit is installed.
Please see the following manual to see more details.
・ "Q:Environment for your printer "
③ The Roll media thickness has to be 0.05mm - 1.0mm (0.0019 inch - 0.0393 inch).
Please see the following manual to see the other specs for this unit.
・ "Optional Roll Unit RU-160 Operation manual"-[Chapter 5]-[RU-160 Specifications]
・ "Q:Is it possible to set a roll media on JFX? "
Caution:
① About a Vacuum unit
If you use this Roll Unit on JFX, you need to use a MIMAKI vacuum unit.
If the vacuum unit is not from MIMAKI, media feeding by the Roll Unit will be failed.
② About a print area
Even if you set roll media, the unit can not print continuously from the start to the end of the roll.
The maximum print size of a roll print is as follows:
---

---
③ About the movement of a Roll Unit
The printer movement is like "[Print1] ⇒ [Media Feed] ⇒ [Print2] ⇒ [Media Feed ] ⇒ …".
And distance accuracy of the "Media Feed" is ±20mm (±0.7874 inch).
Therefore please be sure that the distance between the "Print1" and "Print2" can not be "0".
Please refer to the following information.
Ex): A example that if you want to separate a print image.
---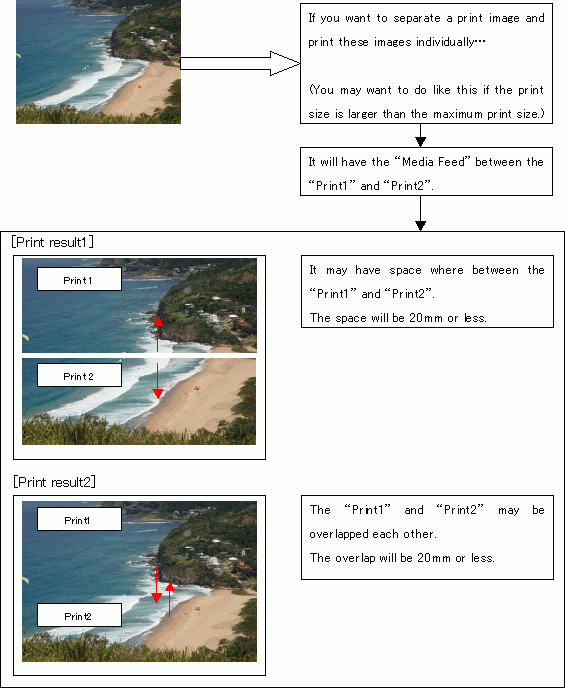 ---
---